Botox in North London (Golders Green)
If you're looking for quick, affordable and effective Botox in North London from a highly experienced team, our modern Golders Green clinic can help.
✓ Quick (under 20 minutes) ✓ Affordable (from £200) ✓ Incredible long lasting results (up to 6 months).
Our facial aesthetics expert and practice partner Dr Ian Davis (GDC No. 74993) has over 20 years of dentistry experience and is passionate about enhancing people's facial appearance and confidence.
Anti-wrinkle injections to keep you looking young
Botox is a safe and highly effective rejuvenation therapy that combats the appearance of lines, wrinkles and folds in the skin.
The signs of ageing come to us all in time but you don't have to live with them. Starting in mid twenties your skin stops producing as much collagen as it did before. Collagen is the powerful protein that keeps skin bouncing back to its usual shape. As these levels deplete, your skin can start to sag and ruin your overall appearance.
At BDS Dental in North London, we want to help you look younger for longer. Our skilled practitioners utilise the highest quality Botox injections to effectively remove these tell-tale signs of ageing without the need for surgery.
How does Botox work?
Botox is made from a naturally found bacterium called Clostridium Botulinum which works as a muscle relaxant. The substance is highly refined, purified and used in very small doses to greatly reduce any wrinkle-causing muscle activity in your face.
Botox injections can also help smooth out any existing imperfections in the skin by essentially reversing the signs of ageing and leaving you with a beautiful, supple and youthful appearance.
This treatment is highly effective and incredibly popular amongst patients of all ages, delivering proven results against common issues such as:
Forehead wrinkles
Frown lines
Crow's feet
And more
Botox can even be used to treat other conditions such as excessive sweating, muscular disorders and migraines.
When you come in to the BDS Dental Practice in Golders Green, our highly qualified facial aesthetics practitioners will be able to discuss the areas you are having problems with to help reassure you whether Botox injections or one of our other facial aesthetic treatments are the right option for you.
How much does Botox cost in Golders Green?
Botox is one of the leading anti-ageing treatments in the world and is highly popular among patients worried about or beginning to notice wrinkles in the skin.
The number of Botox injections you require will all depend on the results you're hoping to achieve. Be sure to speak to your practitioner about the problems you're having and the imperfections you're wanting to correct.
At our North London practice, we offer the highest quality Botox injections by thoroughly trained and experienced professionals. We have ensured our Botox prices are among the most competitive in Golders Green and North London.
Our prices therefore start from £200, with results lasting up to six months.
To find out more about Botox rejuvenation therapy at BDS Dental in Golders Green, speak to your facial aesthetics practitioner at your Botox consultation.
Wrinkle reduction treatment areas
See the most common facial areas where Botox can be used: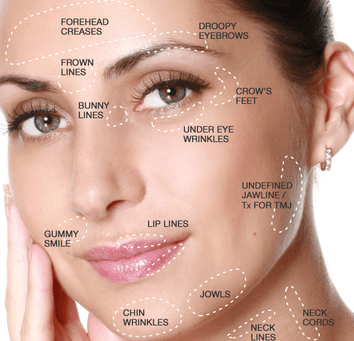 The treatment explained
At your wrinkle-reduction treatment appointment the whole procedure will be fully explained so you know exactly what to expect. Our highly skilled Botox administrators will use a very tiny needle to place the Botox solution beneath the skin. This should take no more than ten to twenty minutes and you'll notice the results starting to appear within just three days of treatment.
The process is virtually pain-free with minimal discomfort. It is extremely rare for Botox to be painful and normally no anesthetic is required. However anesthetic cream is available if required.
You will be able to see the full effect of your Botox therapy within a week of treatment as your skin begins to smooth out, tighten and generally appear younger and healthier.
On top of this, these incredible results will continue to last for around four to six months before they start to gradually fade. That means you can transition smoothly between retreatment appointments without anyone being able to notice in the meantime.
Regular top-up retreatments keep the incredible results of your Botox injections lasting all year round so you can look younger, healthier and happier at all times.
Thinking about starting your Botox journey?
If you'd like to know more about the most popular non-cosmetic treatment in the world, book your Botox consultation with the BDS Dental team today.
Please call us on 020 8458 1611, or pop in and visit us. We are located just a few minutes' walk from the Golders Green tube station on Finchley Road.